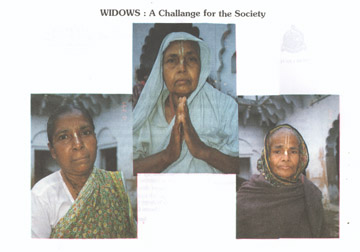 NEW! MESSAGE ON INTERNATIONAL WIDOWS' DAY 23 June 2011 from the Secretary-General of the United Nations
Report On Visit To Mayapur To Attend Interfaith Meeting & Navadweep (29 November - 4 December, 2008)
From V.Mohini Giri: Please join the candlelight vigil for the children of Nithari this Sunday, January 14, 2007, 5:00 p.m. in our continous struggle for equal justice for all. More information...
White Rainbow Opens in New York
I'm thrilled to announce that White Rainbow, the movie depicting the plight of widows in India, is coming to New York! It will run from October 20 to October 26th. Dr. Mohini V. Giri will be available before the movie opens on the 20th for a question and answer session. I hope you will be able to see this incredible movie. Please share this information with your friends and colleagues.
White Rainbow will open at the Loews 34th Street on 312 West 34th Street. The benefit screening will be on Friday October 20, and the evening shows will follow during the week. Call 212-244-8850 for show times.
Suraya Sadeed: A Widow's Grief Turned to Aide for Children and Families in Afghanistan, by Laura Slap-Shelton, Psy.D.
Financial Support Needed to Help Distribute White Rainbow
Winner of the Best Feature Film award at the 2005 Sedona International Film Festival, White Rainbow creatively documents the plight of widows in India. After successfully showcasing White Rainbow in film festivals throughout the country, we need your help to release it in movie theatres so that the film's powerful message can reach larger audiences. Click here to make an affordable donation in minutes. Or for more information please contact Linda Mandrayar at linda@dharlin.com.
INVITATION LETTER: This is to invite you to our forthcoming programme tagged as "LECTURES AND DONATIONS ON IWF HIV/AIDS POSITIVE WIDOWS ANDTHEIR CHILDREN IN AFRICA"
DATE: 2ND JULY, 2005
VENUE: LAGOS AIRPORT HOTEL, IKEJA, LAGOS-NIGERIA
TIME: 10:00AM PROMPT
Your presence at this occasion will save a life of a widow and her children who are HIV/AIDS infected. Also, your contributions and support will be highly appreciated.
Thanks
Primate Elijah Ayodele
President IWF/WWF
White Rainbow Opens the Reel Women Film Festival
White Rainbow has been selected as the Opening Night Film for the Reel Women Film Festival in Hollywood! White Rainbow will screen on March 17th at the Mann Chinese 6 theatre in Hollywood at 8:00pm (on Hollywood Blvd & Highland). The website for the festival is www.rwiff.com. Passes to the festival go on sale Feb. 1st. Individual tickets go on sale March 1st. The website will have ticket buying info at that time. This will be a great opportunity to see the film on the "BIG SCREEN", at a wonderful venue and with a live audience.
The Dark Reality (A review of White Rainbow in The Hindu)
Dr. Mohini Giri and the National Women Organization Meet with Mrs. Ghandi to Ensure Women's Rights in India, by Dr. V. Mohini Giri
Refuge for 500 Under-privileged Widows Reaches Construction Stage, by Dr. V. Mohini Giri
A Note from Dr. V. Mohini Giri:
This year took me to various parts of the world starting with USA, Korea, Bangkok, Bangladesh, Chennai, Coimbatore, Karoor, Kodaikanal, Hyderabad, Bombay, Gujarat, Jaipur, Jammu & Kashmir etc. In an attempt to look after the marginalized widows, we have had a successful empowerment programme in Jammu & Kashmir, with the riot affected in Godhra, Gujarat, with 400 women sarpanches from eight states of India, a friendship solidarity peace bus journey with 40 women from India to Bangladeh and last but not the least, we have been able to purchase four acres of land at Mathura to empower the widows of Vrindavan.
Waiting for Salvation, by Karijn Kakebeeke
Conference Report, South Asian Conference, "Capacity Building of Marginalized Women: Widows"
Delhi Declaration, by South Asian Conference, "Capacity Building of Marginalized Women: Widows"
The World Grieves Together, Resources for a Traumatized Nation
Guild of Service and WIPSA Call for Peace, by Guild of Service & Women's Iniative for Peace in South Asia
Bringing an End to Grief: South Asian Women Organize for Peace: Women's Initiative for Peace in South Asia (WIPSA), by Women's Iniative for Peace in South Asia
Empowering Widows in Development Finally Heard in the United Nations, by Laura Slap-Shelton, Psy.D.
Empowering Widows in Development, by Laura Slap-Shelton, Psy.D.
International Recognition Comes to Widows, by Laura Slap-Shelton, Psy.D.
Conference on Widows to Be Held in February, by Laura Slap-Shelton, Psy.D.
GriefandRenewal.com is hosted by FatCow®. If you are looking for hosting for your website, please consider purchasing an account by clicking on the link to the right. Your account purchase will help fund this site.